Ok, so I'm finally doing it....I'm taking the plunge and diving in! To losing weight, that is. All my life weight has been one of my biggest battles and I have never really been able to conquer it. However, the last 3 months since my wedding have been the most dramatic weight gain of my life and in that short time I put on over 15 pounds!! Danny and I have been having such a great time with each other and enjoying the "honeymoon stage" that we overlooked the importance of our health and exercise. That's why I'm so glad my blog friends,
Mr. & Mrs. Smith
and
Running Backwards in High Heels
, started this blog challenge today!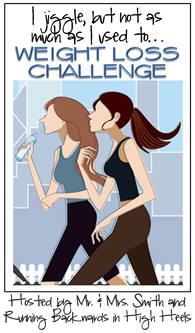 My ultimate goal is to lose 40 pounds and get down to the weight I was in high school! However, for this 8-week challenge I plan on losing 15-20 pounds, which would be a GREAT step in the right direction! My plan is to go running on Mondays, Wednesdays and Fridays and alternating workout videos on Tuesdays and Thursdays. Sundays will be my day off to rest and re-cooperate! I know it will be tough but with the help and encouragement of my blog friends (and my husband who agreed to do this with me!) I can make this a reality. I will be posting pics of my worst/best weight soon!
Love always,