Happy Thursday everyone!
I'm linking up with Lyndsey and Rachel today for Week 2 of the "Jiggle Challenge"!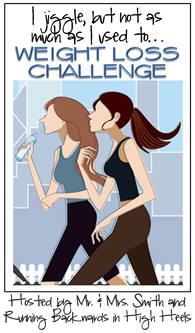 Let me just start by saying that this week went
nothing
like I expected! I had a workout plan that consisted of 4 days of running and 2 days of workout videos as well as a healthy diet. None of those things happened, however, because I unexpectedly got sick and am just getting over it. But it wasn't all a bad thing because I did lose FOUR POUNDS this week and am happy about that, even though it's probably because my diet pretty much consisted of crackers and Gatorade. I have been loading myself up on vitamin C like crazy so I can get past this sickness and hopefully get back on track by Monday. I'm excited about what the future holds and am more determined than ever to lose this weight! Good luck to all my workout friends!
love always,