purposely
! Why oh why would I do that, you ask? Because I gained back three of the four pounds that I lost when I was sick and did NOT want to put that out there. But I have realized it's better to be held accountable so at least I stick with my goal instead of just giving up because I was
out of control
during Easter! So here's my updated list of goals for the Jiggle Challenge hosted by Lindsey and Rachel: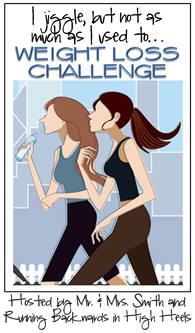 Run or do some form of cardio exercise 5x a week
Do arms and abs workouts every other day of the week
No food past 7pm (this is the hardest thing for me!)
Keep a food journal
As of right now I don't have a weight goal for myself but I will be diligent in doing what I listed above and see what the outcome is in the next four weeks! Wish me luck!
Now moving on to my "30 Days of Encouragement" Challenge from
Revive Our Hearts
, here are the tasks to complete for Day 2 of loving and appreciating your husband more:
Day 2:
"...through love serve one another." Gal. 5:13b
How did you do yesterday with your first day of blessing and encouraging your husband? Was it easy? Was it hard to hold your tongue when you wanted to say something negative? We hope you're off to a good start. (If you blew it, don't give up - start again today!) There are so many practical things you can praise, if you look for them. Today, find some way that your husband is serving you or your family. Does he help around the house? Take care of the car? Fix things that are broken? If your budget allows, give him a new, small tool with a big bow attached. But make sure he doesn't think it's part of a "Honey Do" list!

Maybe your husband's not a handyman, but does he run errands for you? Let you go first? Take care of you when you are sick? Help you make decisions? Praise him for his willingness to serve others. Let him know that you see his unique service as a great strength.
In just two days this Challenge has opened my eyes to so many areas where my husband has shown love and dedication towards me but I overlooked them in the hard times. I'm excited to what will come out of this challenge in the next 28 days and hope you will join me in this experience.
Have a terrific Thursday!!!
love always,