It's time for week 2 of "Two Truths and a Lie" Tuesdays! I just want to say a HUGE thank you to those who joined me for the first link-up last week :)
If you are new to the link-up, click
here
to find out how easy peasy it is to join us!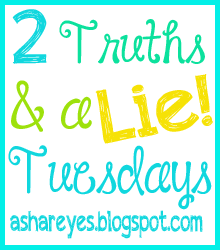 This weekend I dragged Daniel to the mall 10 minutes before it closed and made him practically run to Bath and Body Works to redeem my coupon for free candles.
This weekend we went to three different stores just to compare prices on who was cheaper for paper towels.
This weekend Danny and I chose to go running together instead of staying home and watching TV (per the usual) on Sunday.
So which one do you think is the big, fat lie?
As ridiculous as it sounds, we actually DID go to three stores and compare prices on paper towels!! But I promise I am not some cheap, crazy woman who wastes more on gas than the pennies saved by finding inexpensive paper towels. We actually did have to go to all three stores for other items and just thought it would be interesting to find out where they were cheapest. Isn't married life such a thrill? Haha!
Okay, so I'll get to it...
Here is the LIE...
#3! Shamefully, we sat on our bottoms in front of the widescreen
yet again
this weekend.
But we justified our lack of calisthenics with the fact that we did spend time outside with the neighbors doing yard work earlier that day. It's gotta count for something right??
Now its your turn to link up and leave us in suspense of what the fib is ;)